Event Honors Bataan Survivor

ABQ Journal Review
Monday, April 10th, 2006
Russell Max Simon, Journal Staff Writer

"I
t was too long. Too, too long."
Those were the only words Joel Sanchez could summon when asked to speak about his memories of the Bataan Death March.
For years, the remaining survivors of the forced march that killed more than 20,000 of the 75,000 U.S. and Philippine servicemen who surrendered the Bataan Peninsula in April 1942 have been dwindling in number.
Among the troops who surrendered were 1,800 New Mexicans in the 200th Coast Artillery Regiment, and Sanchez was among them. Fewer than 900 survived the march and subsequent Japanese captivity. Every year on April 9, these New Mexicans are honored in a ceremony at the eternal flame beside the Bataan Memorial Building.
On Sunday, a white "flag of surrender" drooped on the flag pole next to the memorial where an American flag had waved minutes before, and Sanchez listened to the author of a new book about the Bataan Death March speak about the long walk and the bravery for which he and his fellow survivors were being honored.
Nancy Bartlit, co-author of
Silent Voices of World War II: When the Sons of the Land of Enchantment Met Sons of the Rising Sun,"
said that 5,000 out of 12,000 Americans who were on the 65-mile, six-day march did not survive it—one body every 20 yards.
Yes, the march was too long.
"We survived because we were determined to survive," said another survivor of the march, 90-year-old Tony Reyna.
Reyna said that he is the only one remaining out of 11 American Indians on the march who were from the Taos Pueblo. Reyna, like Sanchez, didn't have a lot of words to describe the march. Instead, he spoke about fighting for land and other rights for American Indians when he came back from the war; many of those battles, he still fights today.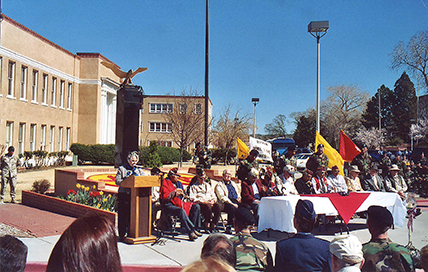 Nancy, the keynote speaker at the
commemorative service during the
annual anniversary
of the surrender of all the American soldiers, April 9,
1942, when
American troops
were surrendered
to the Japanese.
Asked again about his memories from the war, Reyna kept it simple.
"It's stuff you don't want to remember. It was a long march and I was determined to survive," he said.
Reyna and Sanchez were joined by 10 other survivors of the march, far surpassing last year's four who came for the ceremony. In 2003, nine made the journey and in 2002, there were 16.
The names of 14 survivors who have died since April 9, 2004, were also read.
Retired Lieutenant General Edward D. Baca, who has been at the ceremony every year for the last 17 years, said the crowd keeps getting bigger as the number of survivors keeps getting smaller.
"It's from them that I learned what faith and hope is all about," Baca said.
The ceremony consisted of several long-standing traditions, including lighting candles and laying wreathes at the memorial. Bagpipers played "Amazing Grace" and a gun salute rang out just before the white flag of surrender was lowered and the American flag raised again. ❇