Book Gives a New Voice to N.M.'s WW II Heroes

ABQ Journal Review
Friday, June 10, 2005
Anne Hillerman

O
rganized into six major chapters, complete with an expansive table of contents, illustrations, two indexes, three addendums, and notes and reference sections, Silent Voices of World War II
at first seems dauntingly scholarly.
Not so.
The highly readable book, written by the late Everett M. Rogers and Nancy R. Bartlit is subtitled
When Sons of the Land of Enchantment Met Sons of the Land of the Rising Sun,
and it brings to light the crucial involvement of New Mexico and its people in World War II.
Silent Voices
is a tremendous addition to the volumes of knowledge on the war, illuminating both personal stories of New Mexicans who helped to end the war in the Pacific and the context of their service. Bartlit will sign copies of her book Sunday at the Bataan Memorial Military Museum.
Bartlit with Anne Hillerman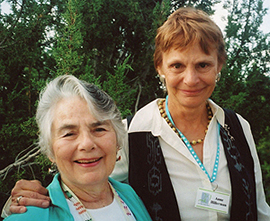 Silent Voices
succeeds on two fronts—as solid history, and as a collection of vignettes about real people whose actions, in small or major ways, changed the course of history. Through extensive and thoughtful interviews, the authors gleaned information that personalizes and enlivens history. Bartlit and Rogers explain how their wartime experience affected Navajo Code Talkers, Bataan Death March survivors and those who worked on the development of the atomic bomb. They did a wonderful job on a vast and complex subject. ❇