Dedication of the Groves & Oppenheimer Historic Sculptures

Santa Fe New Mexican
May 14th, 2013
Roger Snodgrass

G
eneral Leslie Groves had a bit of a paunch. He also had a bulldog reputation, but people who knew him best recalled the twinkle in his eyes. J. Robert Oppenheimer had a sprightly charm that went beyond his historic role and scientific genius.
With a pinch here and a nip there, sculptor Susanne Vertel felt she gave their spirits that smidge of freedom they'll need as public monuments. Vertel's life-size statues of Oppenheimer, the "father of the atomic bomb," and Groves, the army officer in charge of the Manhattan Project, are on the south lawn of historic Fuller Lodge.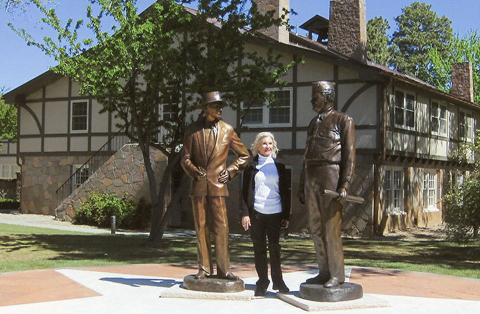 Left: Susanne Vertel, sculptor, stands with the finished bronzes of Dr. J. Robert Oppenheimer and General Leslie Groves shortly after they were mounted on the south side of Fuller Lodge, the iconic centerpiece of Los Alamos history.
"Let's give this man some dignity," said Vertel, a Santa Fe artist, who supplemented her extensive reading about Groves and detailed studies of photographs with personal information from his children. Before and after the war, she learned, Groves' physique was trimmer. Because he built the Pentagon during World War II and then built and supervised the national nuclear facilities that created the first nuclear bomb, Vertel saw him as "a phenomenal human being, much bigger than life." She added an inch and a half to his height, which also helped with the midsection. The two life-size historical figures are the beginning of an ambitious public art program in Los Alamos that culminates several years of research and planning by the county's Fuller Lodge/Historic District Advisory Board author and historian Nancy Bartlit. She has helped the community create a long-term master plan for populating the landscape in Los alamos with statutes of representative figures—from the ancestral Native American era through the Cold War—during the next 10 years.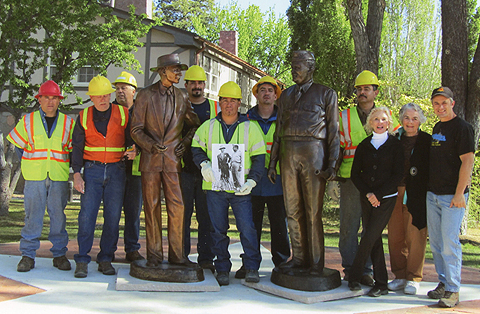 Right: The Los Alamos County work crew who built the base on which the statues are mounted, along with Susan Vertel (sculptor) and Nancy Bartlit and Brian Hurshman (Historic Sculptures Committee members). Thanks go out to the Fuller Lodge/Historic Districts Advisory Board, and the Los Alamos Art in Public Places Board who worked together on the project. Some of the board members spent long hours studying several different locations within the historic district—with life-sized mock-ups of the sculptures—in order to discover the best location for their placement.
Organizers are also thinking how the project might relate to a proposed Manhattan Project National Historical Park, which has been under discussion in recent years.
"I want people to ask who these men were and why they are standing together and how did it change the world," said Bartlit. "I was imbued with the idea of public art that would tell our history," she said. ❇